Dental Crowns and Bridges in Kirkland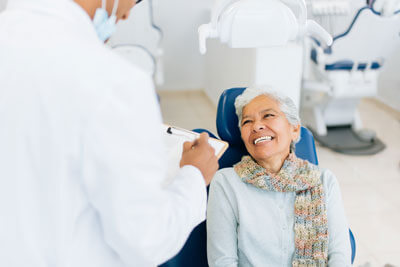 Each of our porcelain crowns and bridges is handcrafted for optimal quality and cosmetics. From repairing damaged teeth to replacing the ones that are missing, we can help your smile look – and feel – whole again. No one will ever have to know the difference.
Porcelain Crowns
If you recently broke a tooth or already have a large, old filling that needs to be changed out, a full-coverage crown may be your best solution. Dental crowns are protective covers that go over and around teeth, rather than inside of them. Instead of making them here in the office (like a filling) they're handcrafted by a local laboratory for better durability and aesthetic design.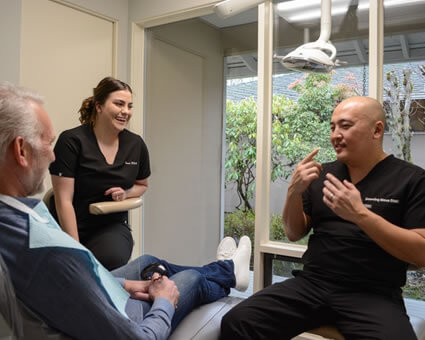 What to Expect
Crown treatments are scheduled over two separate appointments. During your preparation visit, we'll gently numb your tooth, shape it to make room for the crown, then gently use a cord to slightly retract the edges of the gum tissue surrounding your tooth. Then we'll take an extremely detailed impression for our lab and cover your tooth with a temporary crown. About two weeks later your permanent porcelain crown will be ready to cement into place.
Fixed Bridges
Do you have a missing tooth? A fixed bridge is ideal for anyone who may not want a dental implant. Bridges are designed similarly to dental crowns but involve two supporting teeth instead of just one. Bridges are restorations with three or more crowns connected alongside one another, with pontic teeth suspended between either end to fill in the open gap.
Dr. Downing Moua and Dr. Thomas Vu are known for their extremely gentle care and attention to patient comfort. But we're also happy to offer in-house sedation upon request. Choose between light nitrous oxide (laughing gas) or a slightly deeper twilight sedation with oral medication.
Are there alternatives to dental crowns?

There's always the option of getting a large composite filling instead of a crown, but if there is not enough tooth enamel to hold a filling in place it will cause your tooth to crack when pressure is applied.
How long do dental crowns last?

On average, most crowns last 7-10 years. However, it's not uncommon to see some crowns last for 20-30 years depending on how well they're cared for.
How do I take care of my crown or bridge?

You need to brush twice a day minimum and floss at least once a day. Avoid sugar and schedule a professional dental cleaning at least twice per year. If you are prone to grinding your teeth, be sure to invest in a protective mouthguard or bite splint.
How do I floss around or under a dental bridge?

For bridges, you will need to weave the floss underneath with a threader. Or you can invest in a water flosser to use instead.
Do I need a dental bridge?

Even if your missing tooth isn't causing an aesthetic or functional problem, the open space it creates can lead to shifting in your remaining teeth. Over time you're likely to see tilted or crooked teeth. It's best to replace your tooth and fill in that area with a bridge to preserve natural tooth alignment.
Reserve a Consultation
Need guidance on your smile's oral health needs? Explore crowns, bridges and more! Contact us to reserve an appointment.
CONTACT US »

Dental Bridges and Crowns in Kirkland WA | (425) 823-1600