Dentures in Kirkland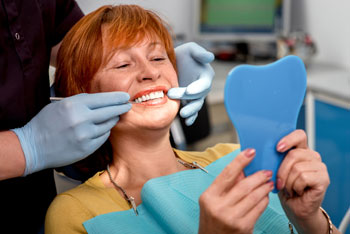 When you need to replace several teeth at once, a set of dentures is one of your best options. Full and partial denture designs quickly restore your smile's appearance and function. Each one is customized to your facial characteristics for an optimal appeal!
Full Dentures
A full or complete denture restores all of the teeth on your upper or lower arch at one time. The acrylic base rests directly against your gum tissue, with your saliva helping to create a suction that holds it in place. It's fully tissue supported, so occasional relines may be needed every few years to keep it both comfortable and secure.
Partial Dentures
When you still have healthy, stable teeth, a partial replaces the ones that are missing without having to extract the healthy ones you have left. Partial dentures rest against the gums but they also secure themselves with small extensions that wrap around the adjacent teeth. They're a bit more stable than full dentures since they have other means of securing themselves.
Choosing to invest in dentures offers you one of the most efficient and affordable solutions for replacing missing teeth. If you don't qualify for a fixed bridge or dental implants, dentures are a tried and true alternative that can be designed for just about anyone.

Full dentures have an acrylic base, while partial dentures usually have a metal base. Both are covered with a pink-colored material with realistic-looking teeth attached where appropriate.
How long does it take to make a denture or partial?

The overall process takes about six weeks from start to finish.
What does the overall process look like?
At
your preliminary visit
we will take an impression of your bite, then have you back for one more custom impression and bite registration. From there, we'll create a wax try-in for you to preview the proposed denture fit and design. As long as everything looks as it ought to, we'll communicate with the lab and then have your final denture ready to pick up at your next appointment.
Are there any side effects of wearing dentures?

It takes a bit of an adjustment period to adjust to speaking and eating with dentures. Although you may not be able to bite directly into corn on the cob, you should be able to transition to eating your typical diet.
How long do dentures last?

In some cases, a denture can last as long as 20-30 years. However, you'll need fairly frequent adjustments or relinings to ensure a snug fit against your changing oral anatomy.
How do I care for my dentures?

Clean your dentures nightly with gentle hand soap and lukewarm water. Use a soft toothbrush to clean the inside and outside of your prosthesis then soak it in water overnight so that it doesn't dehydrate.
Are dentures covered by dental insurance?

In most cases, yes. Our treatment coordinators will verify your benefits to get an estimated breakdown of your coverage.
Should I use a denture adhesive?

A properly fitting denture shouldn't require an adhesive or paste to keep it in place. If yours feels loose, it's likely time to have it adjusted or relined.

Ready to Replace Your Missing Teeth?
Discover how our custom dentures and partial denture options can help you smile happier and healthier. Contact Juanita Bay Dentist today!
CONTACT US »

Dentures in Kirkland WA | (425) 823-1600