Meet Downing Moua, DMD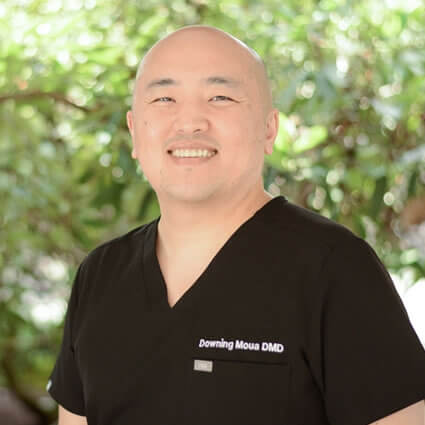 Raised on the West Coast, Dr. Moua first formed an interest in dentistry after getting to know his brother-in-law, who was a dental technician. He then moved to the East Coast to study dentistry at Boston University, graduating in 2003. A year later he completed his general residency in Fresno and then came to Kirkland to open his private practice.
It's Not Work If You Love What You Do
Dr. Moua loves being a dentist because of how rewarding it is to help others but also because of the balance it allows for his personal life. That being said, he finds it extremely enjoyable to provide general dentistry, especially to people who are typically anxious when it comes to seeing the dentist. A self-proclaimed people pleaser, he's extremely patient with our patients who need extra time or sedation to comfortably complete their procedures.
Along with his dedication to our patients, Dr. Moua specifically selected each member of his team for not just their skills, but also their personalities. He believes that the workplace should be made up of people who genuinely enjoy one another's company, and it influences the environment that we create for our patients.
Training and Memberships
As a Kois-trained dentist, Dr. Moua takes a holistic approach to the cause-and-effect process that is oral health. His extensive professional development and patience for explaining things to our clients helps them to also be more educated about the best care for their overall wellness. Rather than treating individual teeth, Dr. Moua takes a step back to understand why things are the way they are and educates patients on how to better direct their level of health in the future.
His professional affiliations include
Academy of General Dentistry
American Academy of Cosmetic Dentistry
American Academy of Clear Aligners
Kois Center Trained
Washington State Dental Association
Outside the Office
Dr. Moua runs two busy dental practices in Washington. But outside of dentistry, he and his husband Brian enjoy traveling (particularly to Europe and Asia). He has also taken numerous Seattle Community College courses on winemaking and plans to make wine when he retires one day. When time allows, he also enjoys playing basketball, tennis and boxing. Both he and Brian are passionate about volunteering their time with Northwest Adoption Exchange.
It's Time to Make the Call
Reserve your first appointment with Dr. Moua today!

Dr Downing Moua | (425) 823-1600