Meet Thomas Vu, DMD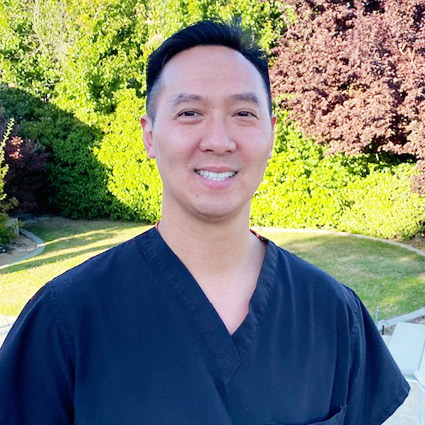 Dr. Vu decided to become a dentist after volunteering at a family friend's practice on weekends for about 18 months. "I enjoyed having interactions with multiple patients each day, and liked that dentistry is one of the few professions where oftentimes you could take care of a person's problem within the same day." At the end of his time at the practice, Dr. Vu knew he could see himself becoming a dentist.
Education & Training
After earning his bachelor's from UC Irvine in 1998, Dr. Vu attended dental school at Boston University, graduating in 2003 with his Doctor of Dental Medicine. As part of his training, Dr. Vu did two separate one-year residencies: Maimonides Medical Center in Brooklyn, NY and West Los Angeles VA Medical Center.
Like Dr. Moua, Dr. Vu takes many continuing education courses a year, and has taken almost 100 units in 2022 alone. Currently, Dr. Vu is training to be a Kois-certified dentist, and he's also done training in bone grafts, implants, and minor sinus lifts at the Misch Resnik Implant Institute.
Offering an Array of Dental Services
Dr. Vu is an outstanding dentist who is highly skilled in a wide range of dental treatments. While he loves to do root canals and extractions, and any oral surgery, he also likes to make a difference in a person's smile with the simplest things, such as fixing a chipped front tooth.
With a CEREC machine in-house, Dr. Vu can produce high-quality, same-day restorations, such as crowns.
In His Spare Time
Outside the practice, Dr. Vu enjoys spending time with his wife and their two young children. He also likes to take weekend trips to explore the magnificent Pacific Northwest.
Fun facts: Dr. Moua and Dr. Vu were classmates in dental school and have been best friends since 1999. Dr. Vu's wife was also a classmate!
Book an Appointment
Reserve your first appointment with Dr. Vu today!

Dr. Thomas Vu | (425) 823-1600