General Dentistry in Kirkland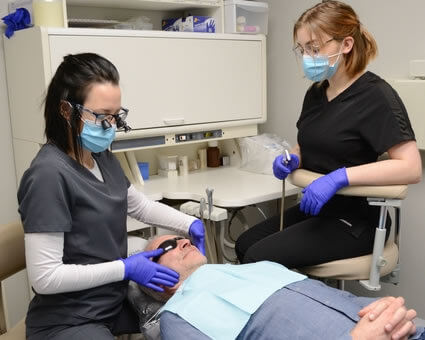 Dr. Downing Moua and Dr. Thomas Vu practice a strictly comprehensive approach to family dentistry. As a Kois-trained dentists, they continually deepen their knowledge of dentistry and the understanding of cause-and-effect oral health conditions. They believe this approach to care allows for better diagnosis and long-term management of each individual's oral health, regardless of their background.
Your First Exam
During your initial examination with Dr. Moua or Dr. Vu, he will perform an extremely thorough extraoral and intraoral evaluation. From palpating your muscles, lymph nodes and TMJ to evaluating your soft oral tissues and screening for oral cancer, he visualizes the overall relationships of your oral structures and why they work the way that they do. If one problem is causing side effects, he'll explain them to the patient so that they have a better understanding of what it takes to bring their level of wellness to the next level.
Following the overall assessment, Dr. Moua will then examine each of the teeth, including screening for tooth decay, wear facets, how they bite together and symptoms of periodontal disease. After your exam, you will receive a cleaning from our Registered Dental Hygienist.
New patient appointments typically take about 90 minutes, while recall (six-month) visits last about an hour.
Will I Need X-rays?
We use digital X-rays to screen for pathology, decay and other irregularities as they relate to your oral structures. X-rays are essential for assessing areas that are not visible to the naked eye during a clinical exam. Our investment in digital imaging provides our patients with more efficient appointments. It also reduces radiation by 50-75% and eliminates harmful chemicals for processing conventional types of films.
Lumps, bumps and sores that don't heal are potential warning signs for precancerous tissue. Especially if they're located along or just underneath your tongue, or somewhere like the back of your throat. Dr. Moua screens every patient for oral cancer, as early intervention is crucial for a successful treatment outcome.
We believe that it's best to preserve your teeth whenever possible. Unfortunately, that's not always an option, especially if you've suffered from aggressive gum disease or trauma. Occasionally we may need to perform a simple extraction to get you out of pain. Sedation options are available to ensure your comfort.
How often should I schedule a dental checkup and cleaning?

People with generally healthy teeth and gums tend to do best with a preventative cleaning and exam every six months. However, if you have a history of gum disease (periodontitis) you may need to schedule visits as frequently as every 3-4 months to prevent relapse.
Do you offer wisdom tooth removal or root canals?

We do not. More complex procedures such as endodontic therapy or oral surgery are referred to a nearby dental specialist.
How frequently do I need to have dental X-rays taken?

Different types of dental X-rays serve different purposes. Full-mouth images are typically taken about once every 3-5 years, while bitewing X-rays are taken about every year. Individual tooth X-rays are taken as needed.
What if I need treatment?

Our care coordinators will outline a detailed treatment plan that includes procedures, fees, estimated insurance allowances and time requirements for your review.
Request Your Appointment Today
Are you past due for a dental checkup? Contact us today to reserve an appointment.
CONTACT US »

General Dentistry in Kirkland WA | (425) 823-1600