Invisalign® in Kirkland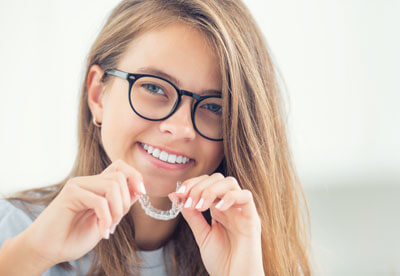 Invisalign clear aligners straighten your teeth without brackets and wires. Instead, a series of transparent retainer-like trays apply gentle pressure to your teeth. Just wear them as directed and see your teeth straighten in the convenience of your own home.
Average Treatment Lengths
Everyone's smile is unique. Some people only need minimal teeth straightening while other cases are more complex. Depending on your bite's anatomy, your Invisalign case could only take a few months up to around a year and a half to complete.
To expedite the process, make sure you wear your aligners for a minimum of 20 hours per day and only change the trays out as directed.
Invisalign Advantages
Compared to conventional orthodontic treatments, Invisalign offers
Transparent appliances no one will notice
Zero wires or brackets for optimal comfort
Freedom to eat whatever you want
Easier home care and maintenance
No uncomfortable adjustments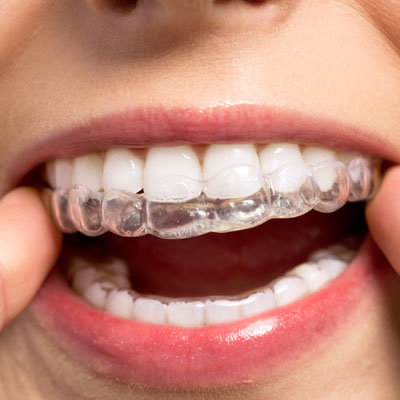 Is Invisalign Right for Me?
If you're considering Invisalign, the first thing you'll do is schedule a consult with Dr. Downing Moua or with Dr. Thomas Vu. We'll record a series of photographs and impressions, then be able to provide you with an estimated time frame as to how long the process will take. Our treatment coordinators will create a care plan that incorporates any insurance benefits you plan to use as well as discuss financing options.
When you're ready to move forward with treatment, we'll send your information to Invisalign labs, where your trays will be digitally printed. They deliver several sets of aligners back to our office and you can start treatment right away. Every so often you'll come back for a brief evaluation to make sure things are moving along properly and to pick up your next sets of trays.
After you complete your Invisalign treatment you'll receive a clear set of retainers to wear, to preserve your smile's alignment.
When your teeth and jaws are properly aligned, they function at optimal efficiency. In contrast, people with crooked teeth are statistically more likely to suffer from tooth decay, gum disease, abnormal enamel wear and TMJ disorder. Investing in a straighter smile isn't just about looking great; it's the healthy choice to make!
Invisalign was designed with adults in mind, but teens make great candidates too. The ideal Invisalign candidate will be someone who is cavity-free and has healthy gums. Younger teen patients will need to discuss the responsibility of changing out (and keeping up with) aligners to determine if it's in their best interest. Dedication is key.
Aside from being practically invisible, one of the biggest perks of Invisalign is how easy they are to keep clean. All you have to do is remove your trays then brush and floss each day. Clean your aligners with lukewarm water, antibacterial soap and a toothbrush at least twice a day.
Always remove your aligners during meals, so that food and natural sugars don't accumulate between your aligners and teeth. Otherwise, it could put you at a higher risk of decay.
Invisalign aligners are digitally mapped out before your treatment starts. Each tooth is virtually "moved" within the orthodontic software and the corresponding aligner is printed to guide it into that position. This high level of accuracy is what makes Invisalign so predictable and effective.
Reserve a Consultation Today
Find out if you're a candidate for Invisalign. Schedule a consultation with us today.
CONTACT US »

Invisalign® in Kirkland WA | (425) 823-1600