Sedation Options in Kirkland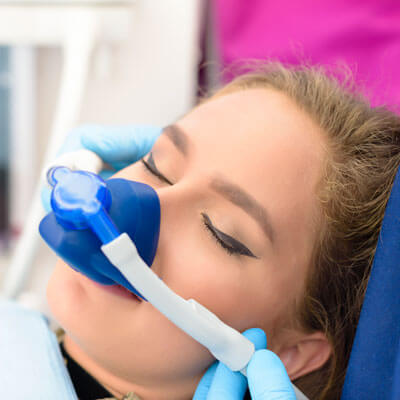 We pride ourselves on gentle dentistry. But even then, some people need a little extra help when it comes to relaxing in the dentist's office. Especially if they need a slightly more involved or lengthy procedure.
As a licensed sedation dentist, Dr. Downing Moua has been providing safe and effective sedative options for over 20 years. His hospital training and careful patient selection ensure that this service is extremely safe for each of our patients.
Who Should Request Sedation?
Sedation is an excellent add-on for anyone who feels anxious, nervous, scared, has a sensitive gag reflex or simply wants the highest level of relaxation. We also recommend sedation if you require multiple procedures, just to help you feel at ease for a longer appointment.
Nitrous Oxide – Laughing gas is a gentle and fast-acting analgesic sedative. You're completely alert, but it feels as if you've had a couple of glasses of wine. Nitrous oxide starts working within just a few minutes and is just as quick to reverse at the conclusion of your procedure. You can even drive yourself home afterward.
Oral Sedation – Occasionally we also offer conscious oral sedation, which is similar to taking Xanax combined with nitrous oxide gas. Although you're still conscious of what's going on around you, you simply don't care much about it all. This sedation option does take a little extra time to wear off, so you'll need to have a friend or family member drive you to and from your appointment.
Request Sedation During Your Next Visit
Your comfort is important. Our sedation dentistry options give you the peace of mind you deserve. Request yours today!
CONTACT US »

Dental Sedation in Kirkland WA | (425) 823-1600